This section provides a variety of information, from the introduction of PP to processing.
Technology introduction
Classification according to the PP polymerization status
Homopolymer
Homo PP

Structure : PPPPPPPPPPPPPPPP
Properties : Excellent stiffness, reduced impact resistance
Impact Copolymer
Impact PP

Structure : PPP(EEEPEEPE)PPPP
Properties : Excellent impact resistance, reduced transparency
Random Copolymer
Random PP

Structure : PEPPEEPPPEPEEPPP
Properties : Improved transparency and softness, reduced stiffness and thermal resistance
Classification according to alignment of methyl group bonded to the main carbon chain of PP Isotactic polymer
Isotactic Polymer

Characteristics

Methyl groups aligned in the same direction

Crystallinity with tacticity

Structure
Syndiotactic Polymer

Characteristics

Methyl groups aligned in alternating directions directions directions

Crystallinity with tacticity

Can be produced with metallocene catalyst

Structure
Atactic Polymer

Characteristics

Methyl groups aligned irregularly

Amorphous wax-phase

Structure
Strengths and Strengths of PP
Lowest specific gravity
(specific gravity: 0.90 ~ 0.91)

Excellent thermal resistance
(HDT 100 ˚C or higher)

Excellent mechanical properties
(stiffness, abrasion resistance, etc.)

Excellent chemical
resistance

Excellent electrical
insulation

Non-toxic

Good processability

Low cost
Strengths and weaknesses of PP
Poor impact resistance at
low temperatures
(except for impact PP)

Combustible

Somewhat weak
against UV

Poor printability
and paintability

Weak gas barrier
※ Comparison with five kinds of general-purpose resins (PP, HDPE, LDPE, PS, PVC)
Introduction to Compound PP
Process of Compound PP production
A compound PP is a product that allows inorganic substances or other polymers to
be mixed with the PP base to feature properties similar to engineering plastic.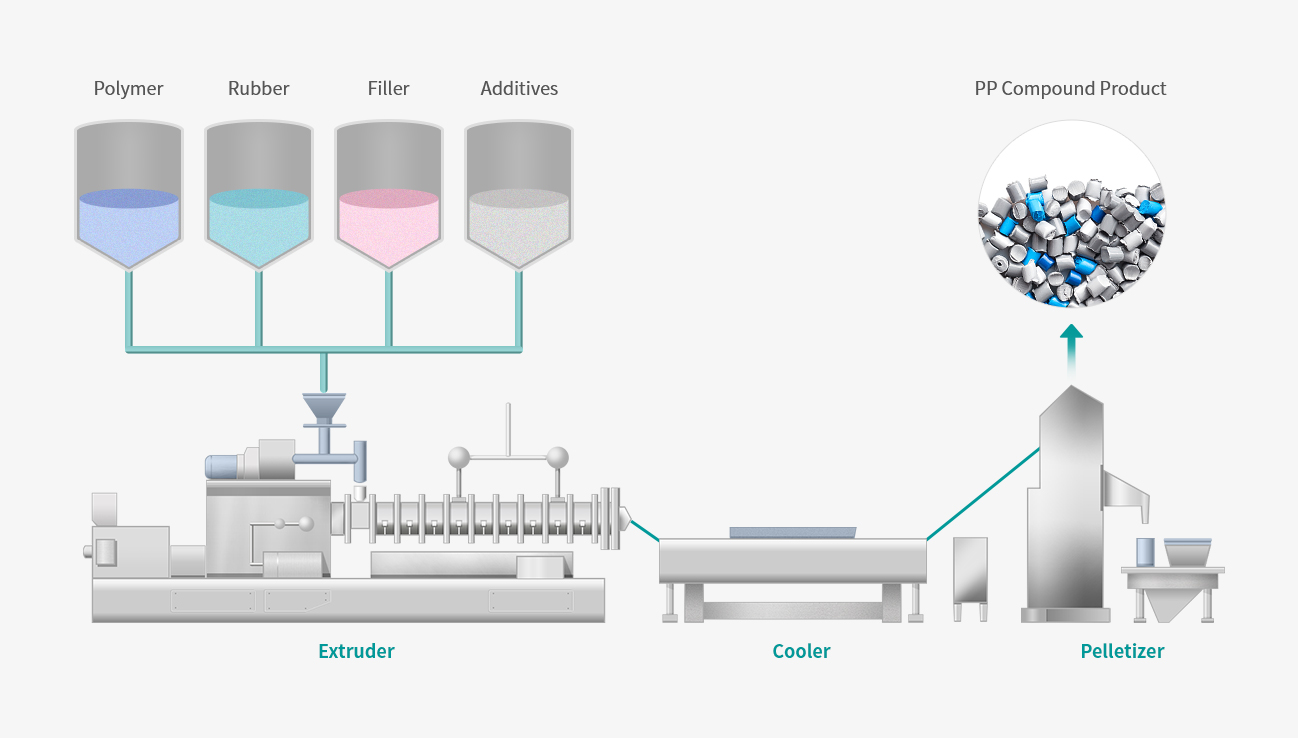 Product Search
Top